Gifts for the Girl Who Has Everything
Monday, November 26, 2012
Hi friends! I am so excited that Kelly is letting me take over Hello Boudreau for the day! My name is Cotton and I blog over at Cotton's Pickins . Kelly and I are fortunate enough to be part of the LPF Mag team and, even better, we're both Gator girls! I am so excited to be here today and I hope you all enjoy today's post; Gifts for the Girl Who Has Everything! Remember to stop by Cotton's Pickins, too.
We all have that friend. She is sweet, fun, and always thinking of others. The holiday season is the perfect time to show your appreciation for her. That is, until you realize, she doesn't seem to want/need anything! This seems to be a trend with my friends this season, as most of us have graduated and moved on into the real world (making real money)! So, here is my guide to finding the perfect gift for the girl that has everything!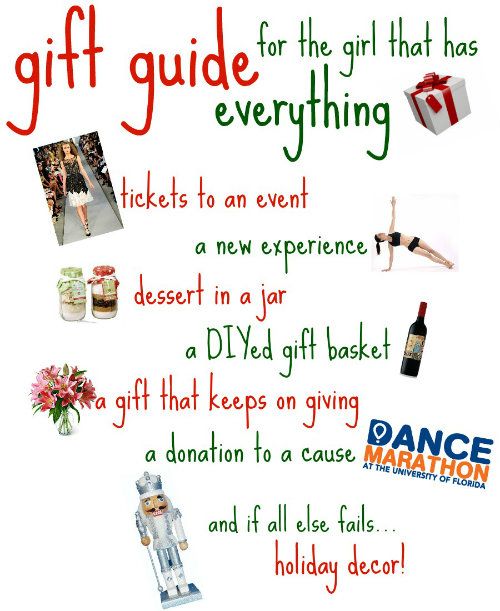 Gift her an adventure or experience! Do you like the same music? Sports teams? Maybe you are both fashion gurus and would love to see a show! Tickets to an event are always a great gift because they allow for the perfect opportunity to create new and fun memories as friends. The tickets are even better when it is something that you both love. Search StubHub to get some inspiration for this gift!
If you two do not have the same interests, that's ok! Another great gift in this realm would be an adventure, such as getting her (or the both of you!) a day of surfing lessons, like she has always wanted. Maybe a membership to a Hot Yoga studio is right up her alley! This gift is also great encouragement for that friend that loves to step out of the box. You can find great adventure deals on sites like Living Social and Groupon targeted for where you live.
Gift her a basket of her favorite things! Think about things that your friend loves or wishes she had more time to enjoy. Is she newly engaged and always looking for an excuse for a romantic evening with her man? Why not make her a wine themed gift basket! Throw in a bottle or two, some cute glasses, corkscrews, stoppers, and even some fresh cheeses from the local farmers market if you are feeling adventurous! If you are crafty, try DIYing the items to make them personal!
Another great gift basket idea is perfect this time of year! Gather up some mason jars and create cookies in a jar! Just add layers of all of the dry ingredients (measured out) and print out cute ingredient tags and labels! Visit this AllRecipes link for some great ideas! Need help create the labels? Get some inspiration from Pinterest! There are plenty of printables to pick from across the site.
Gift her a gift the keeps on giving! This idea of my favorite gift of them all! The concept is simple—a gift shouldn't just last for one day! There are two routes to go with this gift idea. The first path is with a gift like a "Flowers of the Month" membership (let's hope she's not allergic). Pro Flowers will deliver flowers weekly for 3, 6, or 12 months to your friend's home! Really, who doesn't love fresh flowers!? Even better, they will always add a bit of sunshine to her home and reminder her of your friendship throughout the year.
The second route for this gift idea is to do something in honor of her and your friendship, like donate to a favorite charity! When I think back to college, I think of some of the great friends I made through my involvement with Dance Marathon. A great gift for a friend like this would be to make a donation to the cause in her name—after all, it brought us together! Personally, I would then pick up a cute frame at my local Home Goods store and print out a picture of us from the event for her to place in her home! It's simple, sweet, and is a bond you both share!
Gift her a piece of Christmas Décor! Are all these other ideas not going to cut it for your friend this season? Don't fret! Gifting your friend a piece of holiday décor is nearly foolproof! Sounds silly? Well, think of it this way, each year, when she pulls out that adorable reindeer serving tray, that gorgeous tree topper, or even an ornate nutcracker, she will be reminded of the Christmas that you gave it to her! Not to think too long term, but one day she might even pass this down to her daughter as a favorite Christmas heirloom. See! If that didn't make your heart melt a little, you should go sit in the corner with Scrooge! Plus, in my opinion, you can never have too much holiday décor!
I hope this gift guide has inspired you in your shopping adventures for your sweet friend who has everything! Let us know some of the great thinks you pick up!